Lower interest rates reducing mortgage stress
Despite some concern regarding the future of the property market – mortgage holders appear to be breathing a little easier.
New results fro
m Roy Morgan's mortgage stress data show that in the three months to April 2017, 16.8% or 666,000 mortgage holders can be considered to be 'at risk' or facing some degree of stress over their repayments.
This compares favourably with 18.4% or 744,000 mortgage holders 12 months ago.
These are the latest findings from Roy Morgan's Single Source survey of 50,000+ people pa, which includes more than 10,000 owner occupied mortgage holders.
Problem of mortgage stress remains but improving trend
Mortgage stress is based on the ability of home borrowers to meet the repayment guidelines currently provided by the major banks.
The level of mortgage holders being currently considered 'at risk' is based on their ability to meet repayments on the original amount borrowed.
This is currently 16.8%, which is well below the average over the last decade.
Mortgage Stress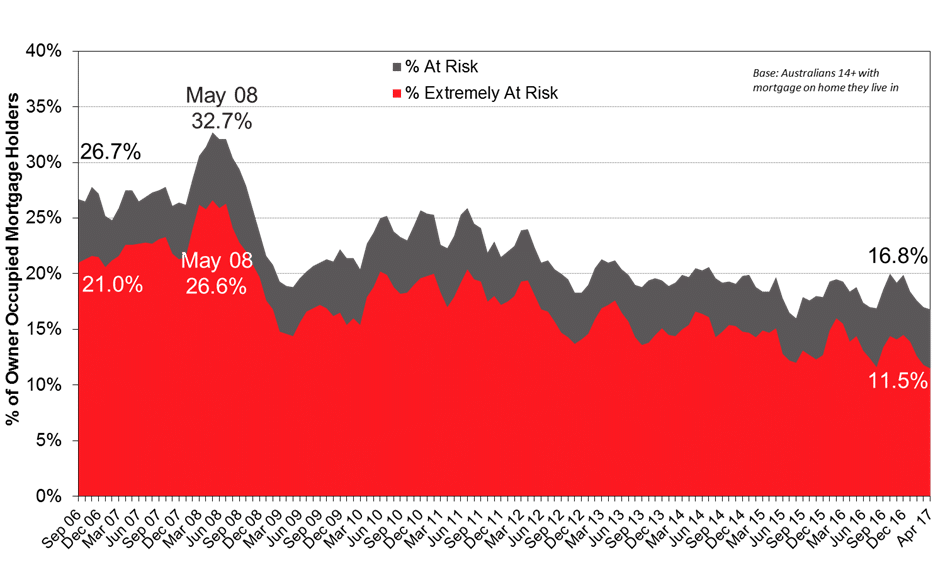 Source: Roy Morgan Single Source. 3 month moving average. Average sample n = 2,711.
An additional measure of mortgage stress is 'extremely at risk', which is based on the ability to meet repayments assessed on the amount currently outstanding.
This is currently 11.5% and although this is the lowest in over a decade, it still represents 442,000 mortgage holders.
Lower incomes at highest mortgage risk
Mortgage stress is much higher among the lower income groups (Under $60kpa) where it currently reaches 85.3% for those considered 'at risk' and 65% for 'extremely at risk'.
Mortgage Risk Levels by Household Income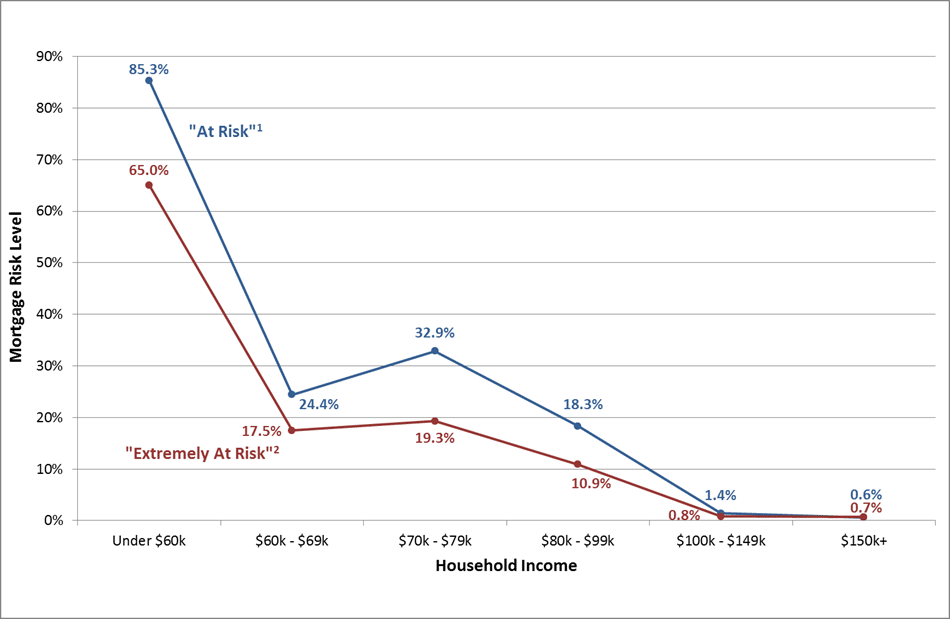 1. Based on amount borrowed. 2. Based on amount owning. Base: Australians 14+. Source: Roy Morgan Single Source. Has an owner occupied dwelling with mortgage, 12 months to April 2017, n = 10,172
It appears that for households with incomes of over $100kpa they are coping very well with their mortgage repayments with an 'at risk' level of around 1% and an 'extremely at risk' of less than 1%.
Norman Morris, Industry Communications Director, Roy Morgan Research says:
"Although mortgage stress levels are trending down over the last year, they remain very sensitive to interest rates and household income levels. Over the last 12 months interest rates are down a little but have tended to remain steady over recent months. 

"With the stress levels being much lower in the higher income groups it appears that the decline in overall mortgage risk since the December quarter has been partly as a result of the increased proportion of borrowers in households with incomes over $100,000pa.

"The stress levels used in the analysis cover all existing borrowers, which include many who have had a  loan for some time and as a result are likely to owe much less than new borrowers, and so face reduced stress compared to new borrowers"

Michael is a director of Metropole Property Strategists who create wealth for their clients through independent, unbiased property advice and advocacy. He's been voted Australia's leading property investment adviser and his opinions are regularly featured in the media.

Latest posts by Michael Yardney (see all)