Nearly three-quarters of Australian parents provide financial support to their adult children, but financial handouts from parents to adult offspring are occurring to a lesser extent, according to finder.com.au. 
Labelled the 'sponge society', these working-age adults are receiving financial help for a range of purchases including free or low rent, paying bills, and big ticket purchases like university fees, white goods, or even buying a house.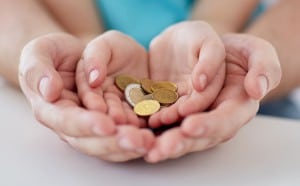 A finder.com.au survey of 2,006 Australians found the majority of Australians (74%) with children aged over 18 years help their kids out financially.
Despite the high incidence of cash handouts, nearly one in three (28%) recipients are embarrassed or ashamed about getting financial aid from their parents.
Nearly one in five (19%) parents that provide financial assistance to their adult offspring say their kids struggle to manage their money.
Almost one in eight (12%) receive help from their parents because they are saving for a home loan deposit, while (11%) say they support their adult children because they're in debt.
When asked about how they feel about receiving financial assistance from their parents, only 15% are proud to admit it. 
Bessie Hassan, Money Expert at finder.com.au, says the percentage of adult children receiving financial handouts from their parents has fallen over the past 12 months.
"The number of Australians that receive help from their parents has dropped by 12% over the course of a year," she says.
Despite fewer parents forking out for their adult children, Ms Hassan says parents often feel obligated to provide for their children.
"It's human nature that parents want to step in if they're child is struggling to repay debt or if they're unable to complete a significant purchase such as a medical expense or a vehicle," she says.
Some parents may offer assistance so that their children don't develop a bad credit history or credit score which could impact their ability to access finance in future.
However, Ms Hassan warns parents to be cautious about giving regular cash handouts to their children as this could lead to poor financial behaviour.
"Young adults can get into the habit of living beyond their means because they think Mum and Dad will always be there to get them out of hot water.

They're never going to learn the value of money if they are constantly receiving financial help.

"A big part of parenting is helping your children become self-sufficient, and money matters should be no different.

Try to resist the urge to step in and instead allow your children to learn basic money management skills such as saving, budgeting and investing.

"However, if you insist on giving money to your child, consider making it a loan with strict conditions on when and how it is to be paid back," she says.

Ms Hassan says there are many reasons why adult children lean on their parents for financial aid.

"Trends in the employment market such as unpaid internships combined with rising property prices and large HECS/HELP debt required to pay off a tertiary degree are some factors that may be contributing to the large proportion of handouts from parents to their adult offspring," she says.
Men versus women
More women receive financial help from their parents than men, and women receive almost twice as much financial help with a significant purchase like a house or car than men.
One in six men (16%) are proud to admit they get handouts from their parents compared to 14% of women.
A greater number of women (9%) are ashamed of the financial help they receive from their parents than men (7%).
State by state
Victoria is the biggest sponge state, with 65% of people getting financial help from their parents, while South Australians are the most independent.
The greatest number of Queenslanders (23%) were 'slightly embarrassed' to get financial help from Mum and Dad, followed by NSW and WA (22%).

Latest posts by Michael Yardney
(see all)