With any property investment or ownership strategy at some stage homeowners and investors will need to consider how and when they will pay off their mortgage.
During the accumulation phase of a property investment strategy, for example, most people keep their loans at a level which makes them an attractive tax deduction as well as allows them to borrow from their increasing equity position to fund the purchase of more properties for their portfolio. However, paying down your home loan faster, for which you don't get any deductions for, is very effective in building your equity position that can then allow you to fast-track that next investment purchase.
At your portfolio matures, however, it's time to consider the best ways to pay off your mortgage or mortgages so you can be debt-free by the time you reach retirement and kick back on a beach somewhere.
So, in this article, we will provide you with six tips to pay off your mortgage faster, so those sunny beach days are closer than ever.
Tip 1: Increase your repayments
One of the easiest way to pay off your mortgage faster is to simply increase your repayments.
While investors benefit from having interest-only property loans because they can only claim interest as a tax deduction, what this means is that the loan size of the property never actually reduces. So, simply, by opting for interest-only you will never actually pay off the mortgage, even though the property itself will increase in value over time.
Homeowners and investors wishing to pay off their mortgage early can opt to increase their principal payments by a set amount, which can drastically reduce the amount of time it takes to pay off the mortgage, not to mention the interest savings.
A standard home loan is usually set to be repaid via principal and interest repayments over 30 years. If the loan is variable, then every time there is an interest rate adjustment the amount paid every fortnight or month is adjusted up or down to ensure the property is repaid over the agreed life of the loan.
But what about if the property owner opted to increase their repayments by $50 a fortnight? What impact will that relatively small amount of money have on the life of a $500,000 home loan?
As you can see from the graphs below, by paying an extra $50 per fortnight on top of the minimum repayments, your mortgage will be paid off two and half years early. What's more exciting, however, is that it will save you a whopping $50,000 in interest. Not a bad result at all for $50 extra every fortnight is it?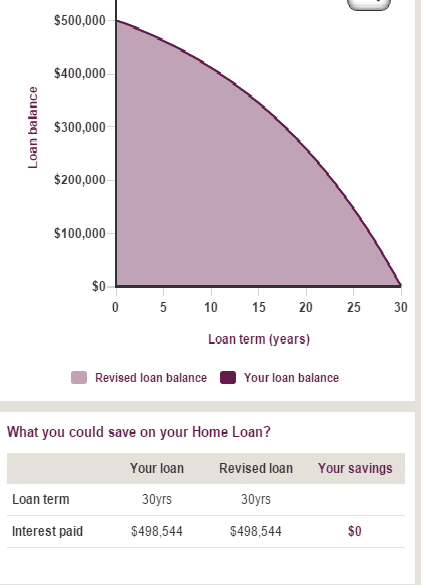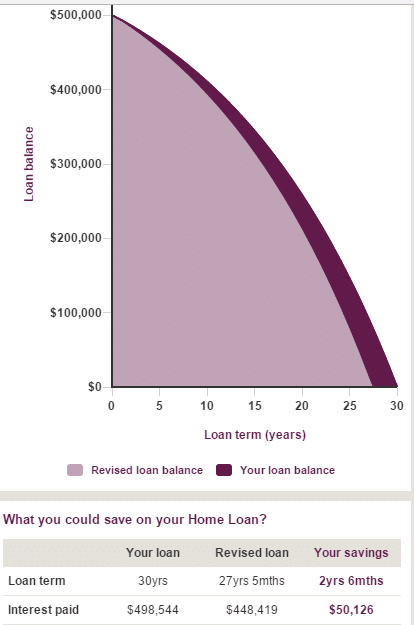 Tip 2: Budget
 Anyone with a mortgage knows that budgeting is a key part of repaying their home loan, but it can also help you pay off your mortgage early.
One of the best ways to do this is to complete a comprehensive, but realistic, budget so you can calculate how much extra you may be able to pay off your mortgage.
Of course one of the keys to a successful budget is sticking to it over the long-term, which for some people can be easier said than done. Some tips to help you be a winning budgeter include:
Calculate your budget over the same timeframe as your pay cycle, so if you're paid fortnightly then all of your expenses need to coincide with when you're paid. For example, if you have monthly bills such as your mobile phone, you should apportion half of the bill to be hypothetically paid out of each fortnightly pay. That way you can truly learn how much money you need to live on from pay to pay and how much you have left over to reduce your mortgage.
Consider using online budgeting resources, tools and apps, which can help you build and stick to your budget. It's also a good idea to talk to a professional financial advisor to help you get your finances in order.
Property investors in particular regularly receive lump sum tax returns every year so if you're one of these lucky souls, or come into some extra money from a bonus or an inheritance, think long and hard about how you will spend it. The best way, of course, is to put the money onto your mortgage which will automatically reduce the repayments as well as the life of the loan.
One of the best budgeting websites or tools that we have seen is ASIC's Moneysmart budget planner as it has both an online tool and an worksheet that can assist people understand better their own spending habits. https://www.moneysmart.gov.au/tools-and-resources/calculators-and-apps/budget-planner
Tip 3: Set up an offset account
One of the most popular and easiest ways to pay off your mortgage faster is to use an offset account.
A 100 per cent offset account is linked to your mortgage and works by reducing your repayments depending on the amount of funds that are in the offset account every month.
In other words, the balance of a 100 per cent offset account is taken away from the principal remaining on the loan for interest calculation. So, if you have $30,000 sitting an offset account and a mortgage of $300,000, then the interest will be calculated on $270,000 because of the $30,000 balance offsetting the mortgage. Over time, of course, this will help you to pay off your mortgage faster.
Successful ways to use offset accounts include getting your wages paid into it and then uses it as a regular transaction account. Many disciplined people also pay their regular bills with their credit cards, but then pay off the balance of their credit card in full every month. What this does is leave more money in the offset account, which in turn reduces the interest charged every month on your mortgage.
As shown herewith, just by having $10,000 in an offset account over the life of the loan, you can save 1 year and 2 months off your mortgage and a whopping $30,000 in interest.
Just think, by coupling this with some additional payments, how you can fast track your debt reduction.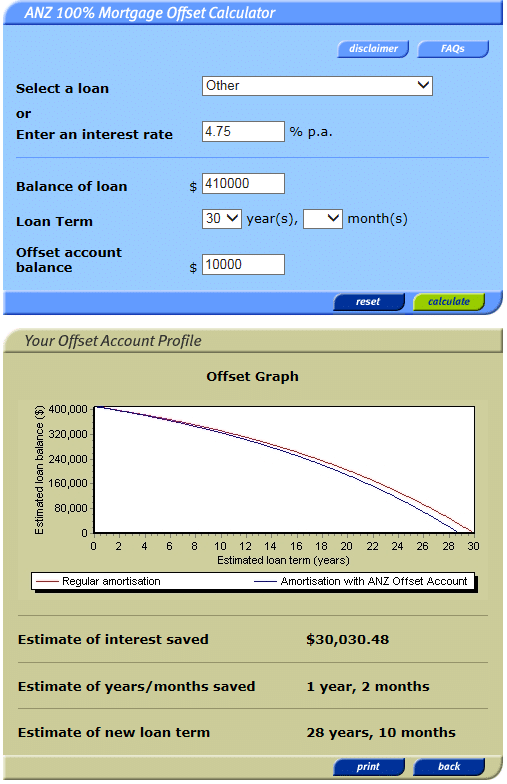 Tip 4: Re-evaluate your loan
One major change in the Australian banking landscape over recent years is the number of lenders competing for your business. Unfortunately, many homeowners and investors often stick with the same lender even though there are probably better options out there for them.
So another tip for paying your mortgage off faster is to reassess your loan to see if it's working well for you or whether there may be other loan products better suited to your individual financial circumstances.
With interest rates at historic lows, borrowers also need to consider whether their current lender is offering them the very best rate.
Re-evaluating your loan can help you pay off your mortgage faster by allowing you to have the very best deal. That's where a qualified professional mortgage broker can help you assess what is currently on the market and which products may suit your situation, including whether a variable rate is best for you or whether you should consider a line of credit if you're an investor or renovator.
It's important to keep in mind, however, that there are usually fees attached to refinancing or switching lenders which, depending on the deal on offer, may make it a good idea or perhaps only a so-so one that might not be worth the effort. Making sure you understand all the costs involved is therefore vital.
Tip 5: Align mortgage repayments with your salary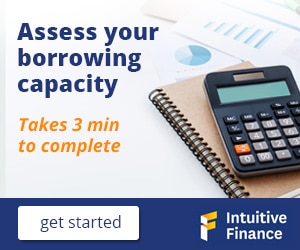 When you have a variable property loan, the minimum mortgage repayments are calculated monthly but that doesn't mean that you have to make the repayments monthly.
In fact, one way to pay off your mortgage is to change your repayments to fortnightly instead of monthly. This is especially useful if your wages or salary is paid fortnightly, which can also help with budgeting.
One of the best outcomes of making fortnightly repayments, though, is that you're automatically paying extra off your mortgage and you probably won't even notice! The thing is, with monthly repayments, you make 12 monthly repayments each year. Let's use an example of paying $2,000 a month for your mortgage. Over one year, your repayments will be $24,000, which is 12 x $2,000. However if you pay every fortnight, that will be 26 payments of $1,000, which is $2,600 and a very helpful $2,000 extra off the loan with very little (if any) pain attached.
Tip 6: Rent out your property
One of the greatest benefits of property investment as a wealth creation strategy is that you can rent out your property to tenants who will pay it off for you!
While renting out your property probably doesn't appeal to long-term owner-occupiers, it is a sound strategy for investors and for first-time buyers (depending on the occupancy requirements of first homebuyers financial incentives or stamp duty concessions).
The longer you own a property, generally, the higher the rent you can charge for it which means that its rental yield increases over time. Increased rent versus static mortgage repayments means that more of your mortgage is paid off – by someone else.
While it's important to hold your properties for as long as possible if you're interested in growing equity and wealth, it's equally as important to look after them by completing regular maintenance and upgrades.
Rental properties need to remain in demand by tenants so this means keeping them up-to-date with mod-cons and refurbishments such as updated kitchens and bathrooms as well as new carpet as the years roll by.
By ensuring that your rental property is at the top of its game, you'll receive the best rent for it which will help you pay off your mortgage sooner.
Intuitive Finance – the smart choice
As this article has outlined there a number of ways that can help you pay off your mortgage faster so you can live a financially-free life.
Now more than ever, you need investor savvy people working on your financial side, who can help you understand the different mortgages on the market today and which ones will work the best for you.
The world of banking and finance can be a pretty daunting one for both novice and sophisticated investors and since our establishment in 2002 we've focused on providing outstanding service and business standards.
This approach was vindicated when we were recently named Victoria's favourite mortgage broker at the 2015 Investors Choice Awards.
Making sure your mortgage is right for you today and for your plans of tomorrow is one of the keys to paying off your mortgage faster. Contact Intuitive Finance to ensure you have the right information and expert support on your side no matter what stage of the property journey you are on.

The information provided in this article is general in nature and does not constitute personal financial advice. The information has been prepared without taking into account your personal objectives, financial situation or needs. Before acting on any information you should consider the appropriateness of the information with regard to your objectives, financial situation and needs.

Latest posts by Andrew Mirams
(see all)