The rivalry between Sydney and Melbourne is as famous as that between Wile E Coyote and the Road Runner, the Maroons and the Blues, or Taylor Swift and Kanye West.
For generations, the two cities have been in a war over which reigns supreme in the coffee, fashion, culture and sports stakes.
And in the real estate domain, it's no different.
House price growth in the New South Wales capital has long topped the national leader board, especially so in the past several years, with Melbourne playing catch-up in second.
Likewise, the state's economy has been booming while things in Victoria have tended to stop and start of late.
If Sydney was the sparkling wedding day bride, Melbourne has been the consummate bridesmaid for many, many years.
But that all looks to be changing. Melbourne's time in the shade seems to be coming to an end and finally the city could be about to shine in its very own spotlight.
Here's why.
It's boom time once again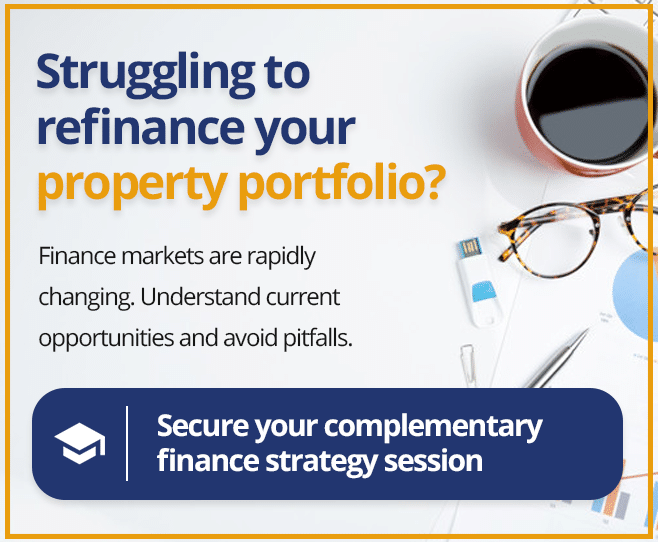 For the first time, the Victorian economy has just taken the mantle as the best-performing in the country on CommSec's rating of state coffers.
The surprise result relegated New South Wales to second place after several years on top.
Across almost all key indicators, Victoria is a powerhouse of late.
Economic activity in the March quarter was a whopping 26.5 per cent above its decade-average level of output.
Retail spending was 17 per cent above the average, supported by home building, population growth and robust employment.
Infrastructure investment is at unprecedented levels, with a range of major road, transport, health and education projects under way.
And Victoria's labour market also remains strong, with more than 340,000 new jobs created in the past four years.
It's hard to find any bad news in the economic data.
Melbourne is the place to be
The outlook for population growth in Sydney has started to weaken, with projections not quite as robust as they once were.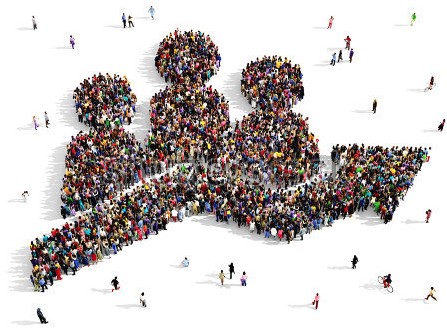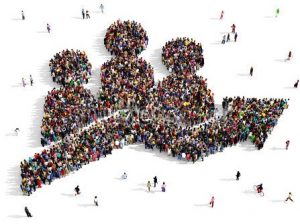 The rate of interstate migration from New South Wales to Victoria is also on the rise.
It's something Sydneysiders never would've dreamed of once upon a time – moving to Melbourne! But it's precisely what they're doing in droves.
Across the board, Victoria's population is growing.
Earlier this year, demographer Bernard Salt made a startling prediction that Melbourne's population will pass five million in the next three years.
And by 2030, he says it'll dwarf Sydney as the most populated city in Australia.
With a night life that doesn't end abruptly, a bustling culture, that famous coffee and those winding laneways… it seems Melbourne is a very enticing prospect.
What this means for property
Melbourne's booming economy and soaring population are good news for the city's real estate market.
A growing population means rising demand for housing. That's common sense. But new housing starts in Melbourne came off the boil in recent years, thanks to a flood of dwellings to the market.
It's only just started firing up again recently, with a boom in construction. Dwelling starts in Victoria are now leading the country, with commencements 42.5 per cent above the decade-average.
But as the number of new residents continues to increase, stock levels will be playing catch-up. This means upward pressure on house prices.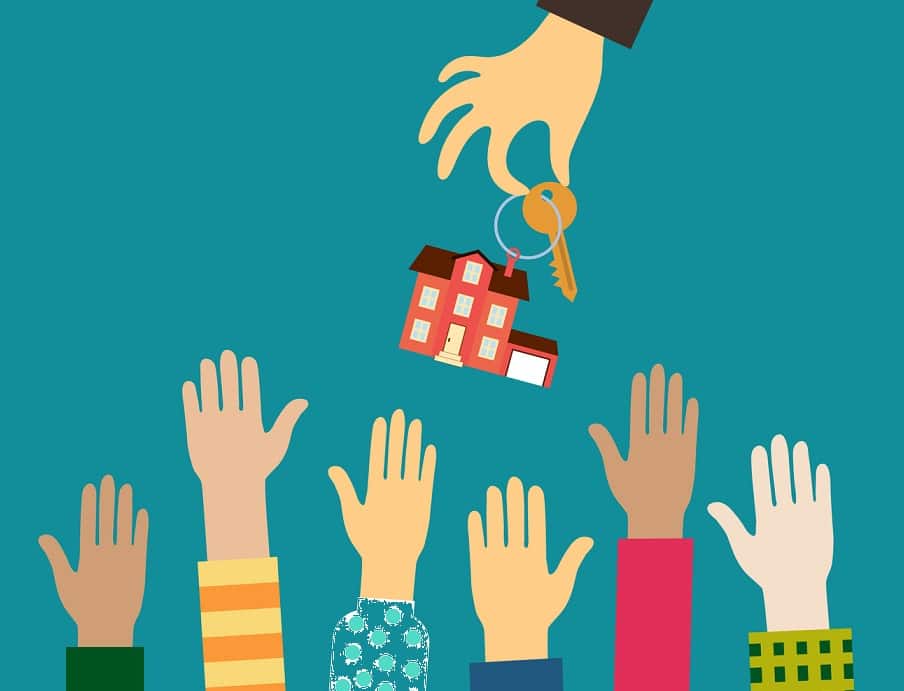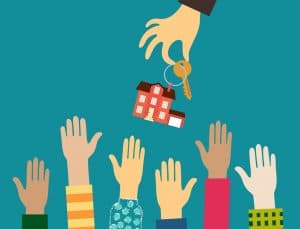 But it's the economic side of things that spells good times for real estate.
When the economy is doing well, people feel more confident to spend money. Retail spending lifts, confidence in the business sector follows and everyone looks to the future with more optimism.
People also feel more assured about making investment decisions – such as buying homes.
First-time buyers will enter the market, existing homeowners will upgrade, and newly confident investors will park their cash in Melbourne.
The signs for the city's property market are probably the most positive in Australia at the moment. Always the bridesmaid? Not anymore.
But… is the infrastructure keeping up with this population boom?
If you've recently sat in peak hour traffic in Melbourne or tried to catch a train, you'll know the city is bulging.
Melbourne is a city on steroids, often without the infrastructure to cope with the population boom.
And as recent fresh data also released by Deloitte Access Economics, over the past two decades a majority of new residents have moved to sprawling new suburbs on the city's fringe.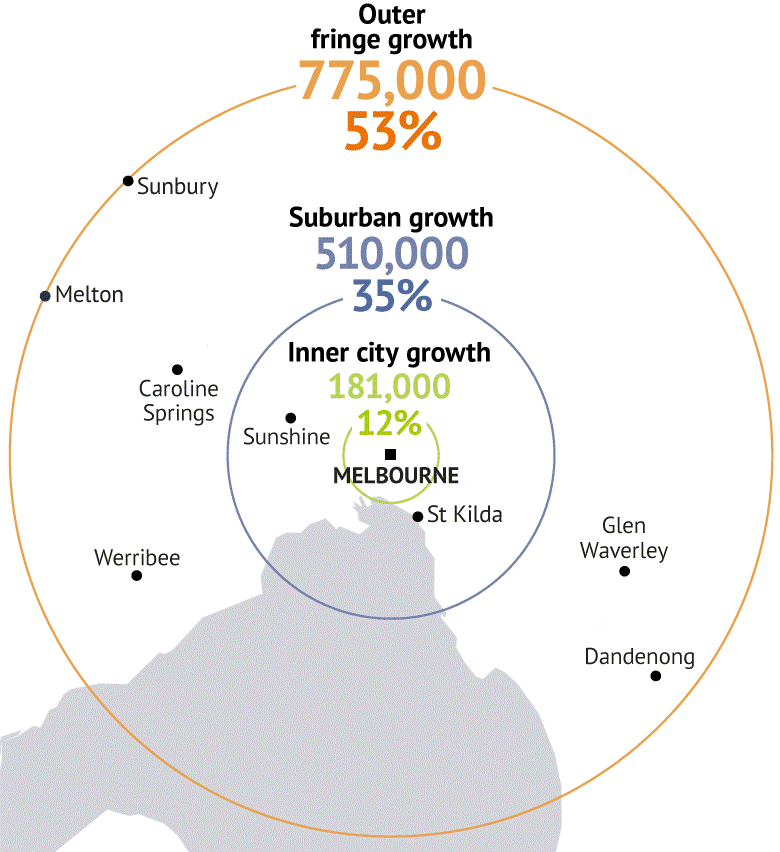 Source: Deloitte Access Economics
Combined with a massive increase in jobs in the central city, it has led to long commutes by those who can least afford it. And it has placed incredible pressures on our roads, trams, trains and other infrastructure.
Melburnians are seeing a massive catch-up exercise from the Andrews government as it oversees billions of dollars of spending – on toll roads, an underground rail line, level crossing removals – designed to equip a city hurtling towards 8 million inhabitants by 2050.
Sustainable growth required
Victoria's population growth needs to be sustainable and governments (local, state and federal) need to implement a plan to ensure they are providing adequate infrastructure.
Too much housing is being built on the outskirts of town, where the jobs are scarce, rather than in the city's middle suburbs.
City's continued sprawl costing those with the least the most
Melbourne's continued sprawl outwards is forcing disadvantaged families to pay the most for transport and other essential services when they can least afford it, new data shows.
The Deloitte Access Economics research also modelled a journey from Coburg to Flinders Street Station via car, train and bicycle and found – after taking traffic congestion, accidents and other impacts into consideration – that the car trip costs society nearly twice as much as the train trip, and 19 times more than riding a bike.

Source: Deloitte Access Economics
In the research, to be released at an event hosted in Melbourne on Thursday night, the influential economics firm warns that unless Melbourne – Australia's fastest growing city – changes its model of population growth away from sprawl, it will increasingly become a victim of its own success.
The researchers have found Melbourne's pattern of growth over the past 20 years has resulted in one in three of the city's 5 million residents now calling the outer suburbs home.
Of the 1.5 million new residents over the last two decades, 775,000 moved to the city's fringe. Another 510,000 settled in the middle suburbs and just 181,000 extra people now call the inner city home.
But while the population has swelled dramatically in outer Melbourne, there has been a huge jobs surge in the central city.
Deloitte's research shows easy access to four jobs for every 10 outer Melbourne residents. Meanwhile, inner city residents can take their pick of employers with 11 easily accessible jobs on offer for every 10 residents.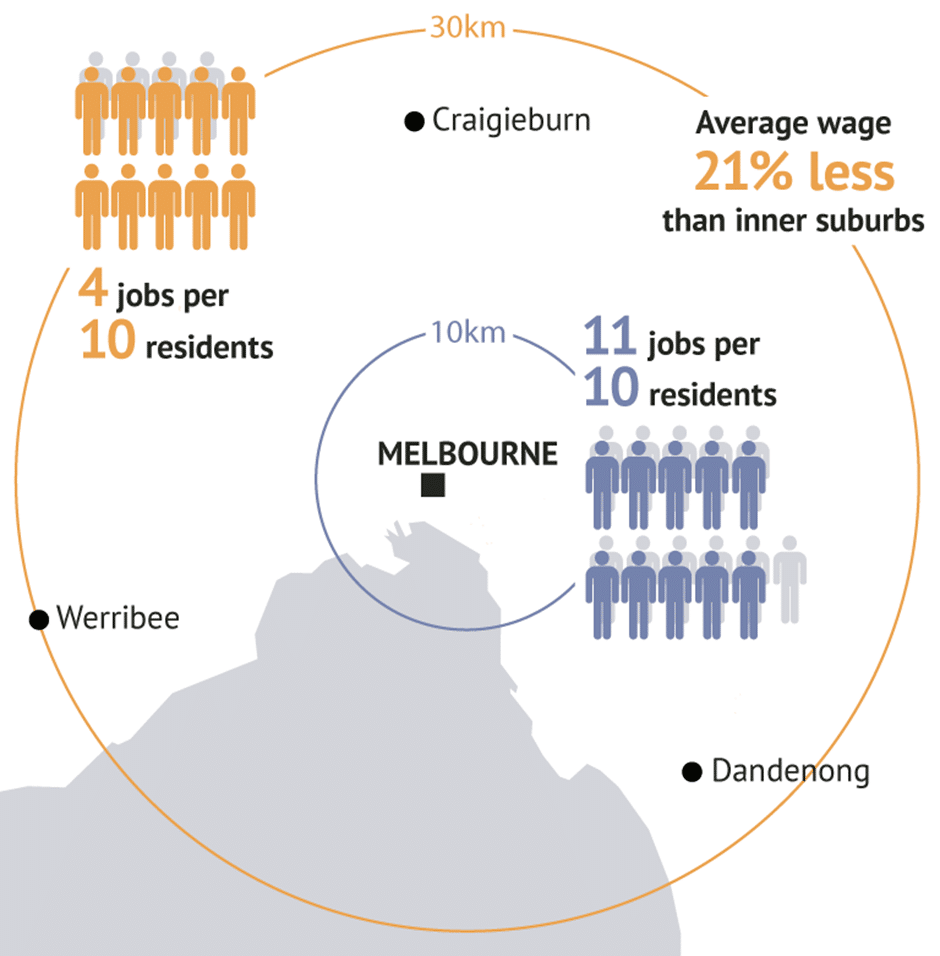 Source: Deloitte Access Economics
"We're in the grip of a wicked cycle," Deloitte Access Economics Partner Daniel Terrill said.
"People with higher incomes can afford better housing near higher paying jobs with higher amenities and better access to vital health and education services."
Those with less money continued to be forced further out, away from infrastructure and services they need, Dr Terrill said.
To get to good jobs, those in the outer suburbs predominantly drive, and Deloitte has found Melbourne's outer suburbs spend more than $2500 a year on average on petrol, compared with about $1700 in the inner city.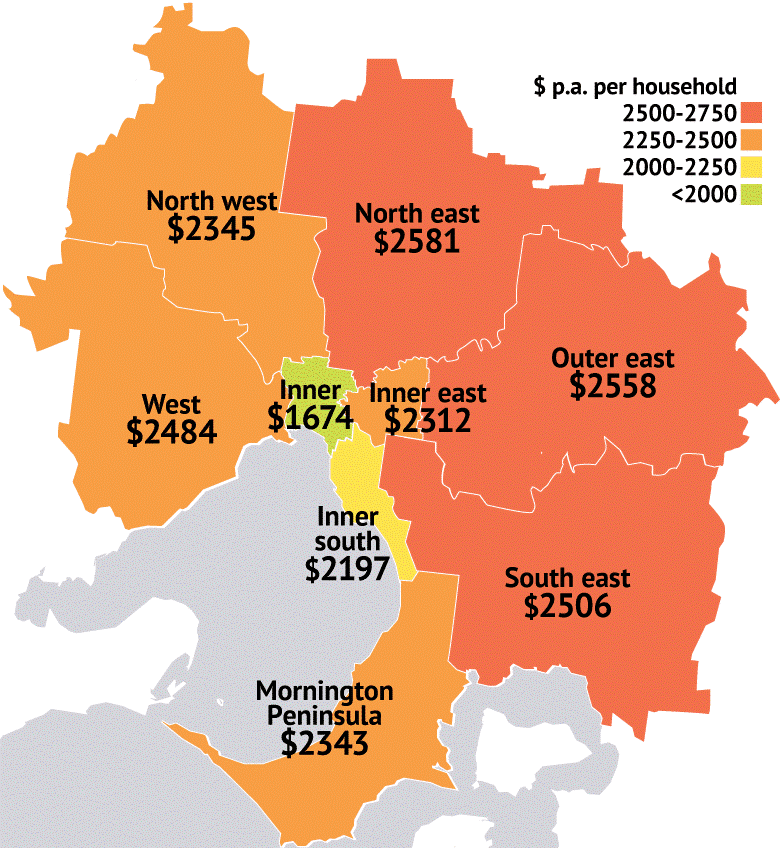 Source: Deloitte Access Economics
One paper produced ahead of Thursday's launch compares the combined personal and societal costs of a trip from Coburg, and found it cost a total of $52.70 to commute via car, $30.60 to travel on a train and $2.80 to cycle.
"While some in the city may need to drive … radical changes to policy and commuting habits are required," the research finds.
Density has to change
If Melbourne is to continue at this incredible growth then the way we live will also need to change.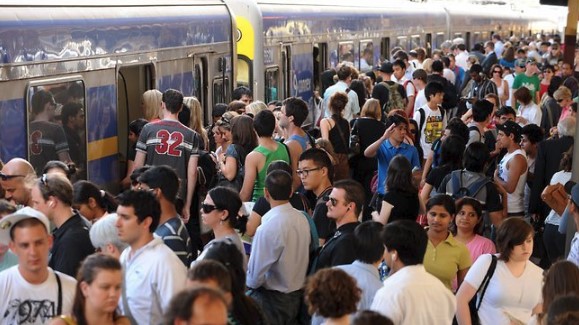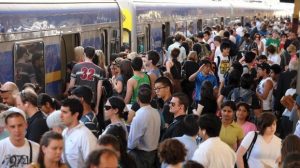 The days of the quarter acre block, family home with front and backyards is changing. Townhouse living is becoming much more common in the middle ring suburbs with smaller front and back yards.
And then we are trading backyards for balconies to live in more desirable areas closer to amenities as well.
Melbourne has to change if it wants to viewed as a world class international city. You only have to look at London, New York or Paris to see that this inner and middle ring living has to change.
Deloitte's Dr Terrill said more quality development and a less relentless focus on the downsides of high-density living was needed. "Density is actually good for liveability," he said.
It's changing already
Go for a drive through these middle ring suburbs such as Sunshine, Footscray and Flemington in the West, Coburg, Preston and Brunswick in the north, Box Hill, Burwood and Ashwood in the East and Bentleigh, Oakleigh and Mentone in the South East to see that older style houses on good size blocks are being bought, demolished and 2 to 3 medium density townhouses are being re-built in the old homes places.
Middle Ring appeal
The middle ring is well resourced generally with schools, infrastructure such as rail and a gentrifying identity.
Coffee shops and wine bars are appearing everywhere as the Melbourne lifestyle takes a hold with our great coffee and food culture.
It's also where you'll find migrant communities taking shape as they look to keep their communities together. And this further supports our wonderful food culture.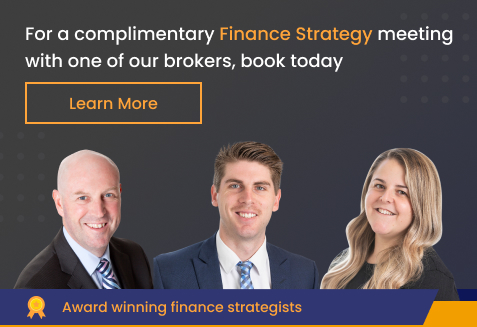 Getting the right financial advice about buying in Melbourne
Sydney was the undisputed economic champion for years, but times are a-changing.
The Melbourne economy is officially number one in the land and it's likely to stay that way for some time to come.
The world of banking and finance can be a pretty daunting one for both novice and sophisticated investors and since our establishment in 2002 we've focused on providing outstanding service and business standards.
This approach has been vindicated many times by our multi award-winning approach.
The information provided in this article is general in nature and does not constitute personal financial advice. The information has been prepared without taking into account your personal objectives, financial situation or needs. Before acting on any information you should consider the appropriateness of the information with regard to your objectives, financial situation and needs.

Latest posts by Andrew Mirams
(see all)