To refinance your home loan or not to refinance your home loan? That is the question on many Australians' minds at the moment as the RBA continues to hike up interest rates and the cost of living continues to rise.
While none of us have a crystal ball, weighing up your options when it comes to refinancing a home loan is worth considering if you are thinking of moving your mortgage across to a new lender than might offer more flexible features and most importantly a more competitive interest rate.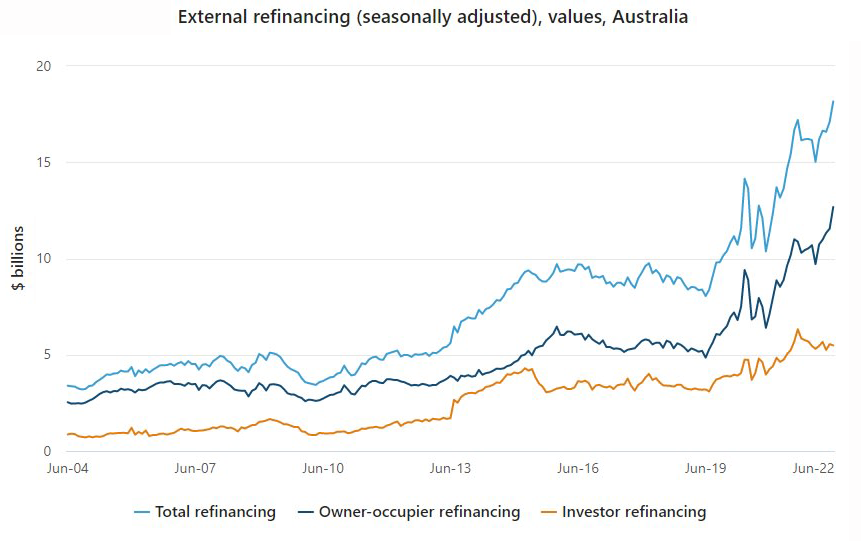 According to some of the latest's statistics from the ABS the value of loans refinanced in June was 17.8% higher than June 2021 and for owner-occupied loans it reached a "new record high" of $12.7 billion for the month, which was 24.6% higher compared 2021. These numbers dropped slightly to around $12.4 billion and 13% in July.
In this article we will address some of the most common questions we are being asked and provide our tips on best navigating the process of refinancing home loans at this time.
Why should I consider refinancing my home loan?
There are a number of reasons why refinancing your home loan could be beneficial, here are a few of the main ones…
It could help you consolidate your smaller debts into one single repayment

Securing a lower interest rate could save you thousands of dollars over the life of your loan

You may find a loan with better features to suit your current situation such as the term of the loan, your interest rate, a redraw facility or an offset account

You may also be eligible for a "cashback" offered from some lenders, which may sweeten any potential deal

Your income or assets have increased since your original application, meaning you may have increased borrowing power
Is now a good time to refinance my home loan?
The short answer is Yes!  But, there's always a but, this depends on your individual situation and while interest rates are up from historical lows, there are still savings to be made if you shop around, especially for those who have been in their homes for between 5 -10 years and haven't refinanced their home loan since.
Historically, when interest rates are flat or declining then Australians are fundamentally lazy, and do nothing about their home or investment loans. But when they rise, then this presents many with a great opportunity to review their existing lender and rates and assess whether there are better deals out there, that could potentially save you thousands of dollars.
Canstar finance expert Steve Mickenbecker recently said "If your financial situation can accommodate it, any time soon is a good time to take a look at the home loan market and see what deals are available. The home loan market has changed significantly in recent years, offering new products as well as more competitive interest rates overall and refinancing costs are typically low. Plus, you may be able to take advantage of 'new customer' lending rates".
Should I use a mortgage broker to refinance my loan?
Using a mortgage broker to help you explore your refinancing options is like having your own personal financial concierge. We have existing relationships in place as well as detailed market knowledge and experience, we will do all the leg work for you and can provide more tailored advice and a wider range of loan options based on your current financial position. 
Even if you were considering staying with your current lender, speaking to a mortgage broker is still worthwhile, as we may be able to broker a better deal for you. In addition to this a mortgage broker can take the hassle and fear out of refinancing home loans and make it a simple and easy process.
And now, Australians reach out to Mortgage Brokers to assist them 7 out of 10 times, with recent data advising that 70% of all new mortgages introduced in Australia are via mortgage brokers, so why not join the crowd!
Our top 5 tips for refinancing home loans
#1. Do your research
Before you refinance your home loan it is crucial to do your research, compare various lenders, take into consideration the terms and conditions of the loan, understand your exit fees if you plan to leave your current lender and be aware of upfront charges, application fees and other ongoing fees and charges you might encounter with a new lender. Understanding what the true cost of your loan will be will help you better plan your financial future.
Don't focus on a cashback offer but these can often pay for the costs to refinance, however, don't focus on cashbacks alone. You will be far better off with a long term cheaper interest rate, than the "sugar hit" of a short term cashback.
#2. Be prepared
Make sure you have all your financials up to date and can provide all the relevant documentation required for the application process. Make sure you can meet the loan serviceability requirements which include having a good credit score, the income requirements needed to meet your repayments and a solid record of past repayments.
You should also eliminate all unnecessary debt such as Afterpay, credit cards and personal loans that aren't required and will negatively affect your borrowing capacity.
#3. Borrow only what you can afford
It is likely that interest rates will continue to rise over the coming months and years, fixed rates have an end-date and variable rates will fluctuate, so you want to ensure that you only borrow what you need and can afford, especially if your circumstances change.
Whilst you may meet the banks serviceability metrics, you should also make sure you understand your repayments and what your actual affordability of any new loans may be, and how these could affect your daily lifestyle.
#4. Engage a mortgage broker
Mortgage brokers can often access deals you won't be able to and can also help you assess your current circumstances and suggest the refinancing home loan options that are suitable for your unique needs.
We have access to a wide-ranging suite of lending options and can also, often, negotiate rates and fees far better than what is advertised. 
#5. Know what your signing
Before you enter into a new home loan make sure you have read and understand all of the terms and conditions of the agreement, don't be shy to ever ask for clarification or negotiate on any of the clauses or terms and NEVER sign anything unless you are comfortable.
To put into perspective why refinancing your home loan is a valid question you should be asking at this time, the team and I have been able to save our individual home loan clients an average of $5,864 per year, based on the last 12 months,  on their loan repayments and an average of $10,484 per annum for our investor clients. If this isn't a compelling enough reason to consider your refinancing options, then I don't know what is!
Knowledge Hub Updates
Join 12,400 readers who already receive it.

Latest posts by Andrew Mirams
(see all)