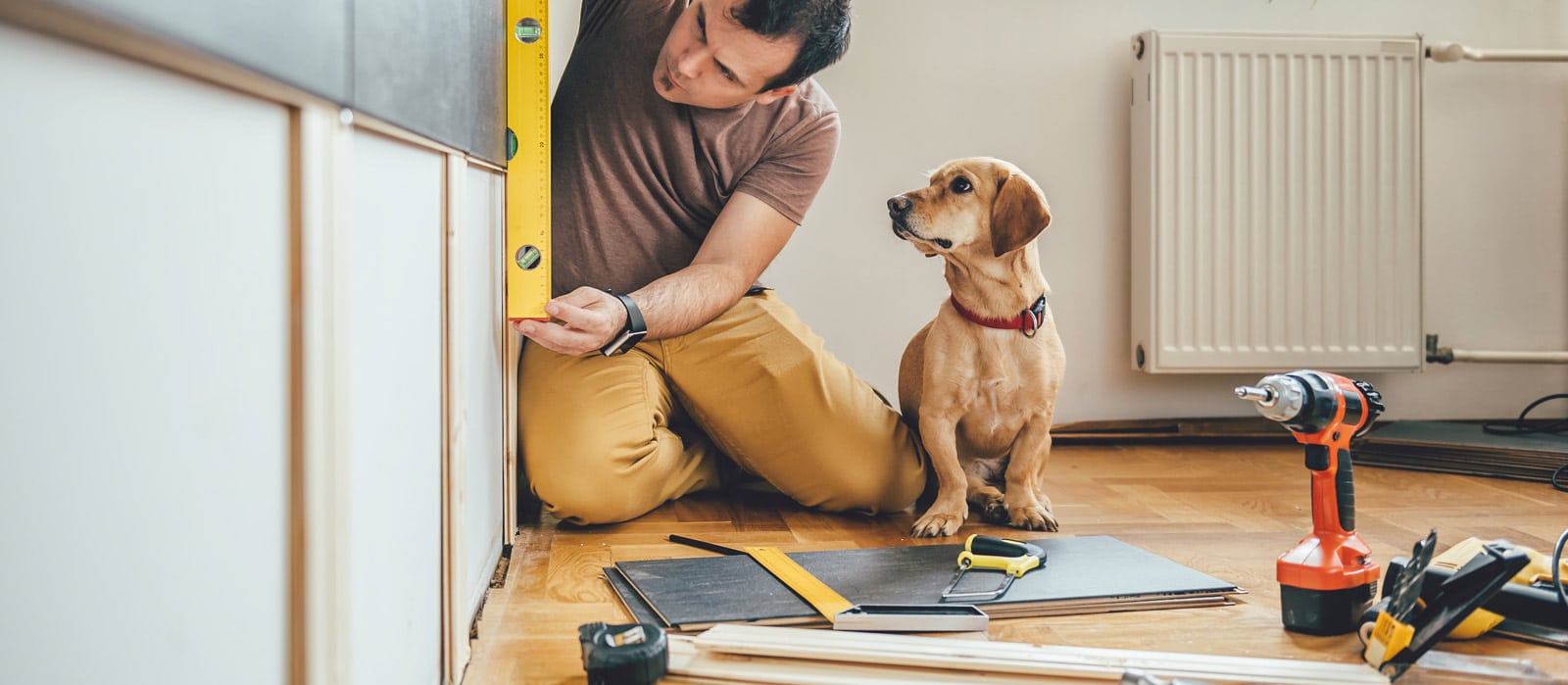 You've got a brand-new mortgage, most of the boxes are unpacked, you're settling in nicely and you've made a few loan repayments. Home ownership is going well, so far. But an unexpected turn of events means you need to tackle some renovation work, and it has to be done urgently!
There's just one, significant, problem – you've got no equity to borrow against! You've only been making repayments for a short period and your property hasn't had a chance to grow in value. Normally, you'd borrow against the equity to renovate a home, but that's not an option for now.
That's OK, all is not lost. Borrowing without equity is possible, but you need to know what your options are and which loan products offer the best features for your particular situation.
Let's explore what those loan products might be.
Personal loan
Borrowing through a personal loan is one option to consider. You can apply through your existing mortgage lender or it may be more prudent to select a different lender, depending on your circumstances and the circumstances surrounding your mortgage.
A personal loan will require a good credit score and regular payslips, but if you have a mortgage then it's likely you've already got these particular ducks in a row. The bank would have taken your credit score and employment history into consideration before deciding to lend you the money to buy your house.
Something to be aware of is that the interest rates for a personal loan will be higher than the interest rate on your mortgage, but it could be the fastest way to get the cash flow required to fund some emergency renovation work.
Line of credit
There are two options when looking at a line of credit – a secured vs an unsecured line of credit. A secured line of credit requires some collateral, such as the house. If you default on the repayments the lender will have the ability to sell the house, so you need to be very confident in your ability to service the loan agreement.
An unsecured line of credit will have a higher interest rate but won't require the collateral or the equity that a secured line of credit would require. If you don't have any equity yet in your property, but are looking to fund some home improvement work, then this may be an option you could consider.
A line of credit offers flexibility with the amount you borrow and interest will only accrue when you've drawn funds down on the facility. The repayments are flexible too, allowing you to control your cash flow, within reason. You can use it to pay contractors and it can be a very handy credit product if you use it wisely.
Knowledge Hub Updates
Join 12,400 readers who already receive it.
Top up loan
Depending on the conditions of your loan and your lender, it's possible that you may be able to add a small amount to your mortgage. This will depend on whether you borrowed the maximum amount possible, according to the bank. If you have already borrowed above 80 per cent LVR, and you don't have any equity, a top up loan is unlikely to be a viable option. But it can't hurt to have a casual conversation with your lender to explore the option. In this market, with house prices growing significantly, your property may be accruing equity quicker than you think!
A few things to consider when borrowing without any equity:
Higher repayments: Any additional borrowing, whether it's added to your mortgage or comes in the form of an additional loan, such as a personal loan or a line of credit, will bring additional payments. Many people begin their mortgage journey borrowing to their maximum, with the view that they'll pour as much money as they can into the loan early to get the amount down and the equity growing.
Full stretch: If your financial situation is at capacity – that is, with no additional surplus to redirect towards the larger loan repayments – then borrowing now to renovate may not be the best idea. Are the renovations critical? Are there personal avenues open to you? Perhaps a relative could lend you the money, such as the Bank of Mum and Dad?
Expert advice: There's a lot to consider when adding to your debt level. Your income is likely to be fairly stable and static for the moment (or you wouldn't have got the mortgage!), so what other elements need to be taken into consideration when thinking about adding more debt? An expert can help you decide how to proceed. It may seem like having no equity is a problem, but with expert advice, in most cases, it can be overcome.
Intuitive Finance – the smart choice
The world of banking and finance can be a pretty daunting one for both novice and sophisticated investors and since our establishment in 2002 we've focused on providing outstanding service and business standards.
This approach was vindicated when we were named Victoria's Best Finance Broker at the 2017 Better Business Awards.
So if you're considering investing in, or developing, property, why not contact Intuitive Finance's mortgage brokers today to ensure you have the right information and expert support on your side no matter what stage of the property ownership journey you are on.

The information provided in this article is general in nature and does not constitute personal financial advice. The information has been prepared without taking into account your personal objectives, financial situation or needs. Before acting on any information you should consider the appropriateness of the information with regard to your objectives, financial situation and needs.

Latest posts by Andrew Mirams
(see all)