The pros and cons of investing in a property are well known…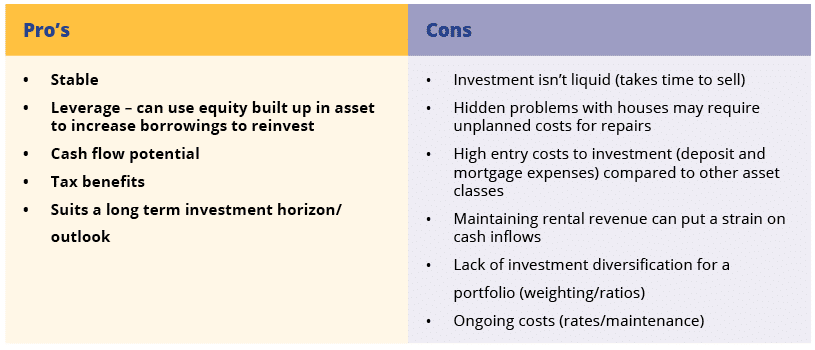 But the decision making process doesn't stop once you have decided to invest in the property category, the next big question is to consider whether you want to buy a house, townhouse or unit….or build one!
Buy and Build
If you decide to build then you have to ask yourself the question – do I buy a house to then demolish and rebuild or do I keep things simple and buy a house and land packaged together?
A: The House and Land Package option:
The main benefit – set and (potentially) forget!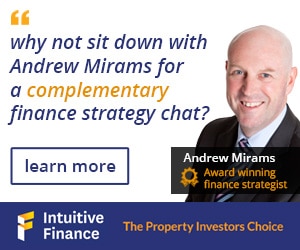 Many investors are concerned about building a new house because of the complexity, time and funding required. They are also concerned about making sure that what they build will have the features, amenities and services required to remain attractive to as wide a range of renters as possible.
House and land packages, where you have agreed a fixed price with the property and construction company (often one and the same) prior to commencement of the build generally means that you will have a better chance of ending up with a house that is finished and ready for rental.
This option is a sound one for people new to the category and who may be lacking in the confidence to be able to negotiate, and fund, a more complex build contract for an existing house or site that requires town planning approval, quantity surveying, architectural input and interior design – and of course, demolition!
It's also important to note that a house and land package will generally include all of the basic finishes and fittings that could potentially add significant cost (and even time delays) if you were arranging such yourself (e.g. carpets, tiles, kitchen and bathroom fit outs, window treatments, security systems and even outdoor features such as paths, lawns, driveways and perimeter fencing.)
The entire house design is generally set although you will of course have the capacity to decide on colours, facades and finishes within a range. All in all this option is an attractive one for investors who don't have the time or inclination to take the project on themselves – you can also feel pretty confident that the builders are well versed in offering what works – and you will end up with a property that suits the regional demographic profile and offers features that fit the lifestyle requirements of the renters. Comparatively stress free investing!
Other benefits of house and land packages…
Stamp duty savings
When investing in a new house and land package, you typically only pay stamp duty on the land component, which means that you could save significantly when compared to buying an existing, finished home.
Council approval
If you've ever built a home then you may be nodding your head in agreement when we say that the council approval process can be a long and painful one. House and land packages mean that this process is simpler and often already organised. A big plus!
New homes have higher depreciation rates
As an investor, it's important that you consider the opportunities to reduce your assessable rental income with deductible expenses such as depreciation. Given the high starting value of the house and its fixtures and fittings, you will generally find that depreciation charges in the first years are quite high and could mean that net holding costs on the property are lower.
Customized design
The houses offered today are incredible for the range of services and amenities they can include – significantly more sophisticated than even a decade ago.
Finance offers
One of the great advantages, particularly if you are one of the developments first purchasers, is that the project managers are often keen to do a deal – and as a result, you may find some extremely attractive packages on offer that include finance at a significant discount. Its always important to understand how you are placed in negotiations…never be afraid to test the market!
It's quick!
Quite often, given the efficiencies involved, your house may be ready significantly quicker than a one off bespoke project
Some notes of caution!
Cheaper land
One of the challenges with house and land packages is that the land is often on the outskirts of regions/suburbs and as a result, the land values may take some time to appreciate compared to more established suburbs.
Cheaper building materials/processes
The fact that the construction process is more efficient (due to the volume of houses being built across the development at the one time) can mean that prices are generally kept low, however this can often be a negative compared to the quality achieved in individually designed and built houses.
Costs for added on luxury services/amenities – it's rarely like the display home!
You have walked through the display home and loved everything about it however be careful that a lot of what is on offer will cost over and above the standard house and land package.
B: The buy and demolish then build a single home or sub-division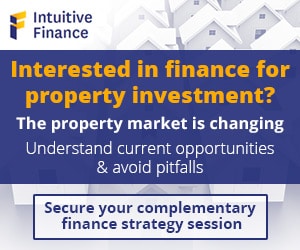 Buying an established property that you then demolish and build a new structure on is a significant undertaking and needs some serious consideration before you begin.
In many instances you would only consider this option if the existing house is uninhabitable (or extremely unattractive to potential renters) or if the block size is such that you can subdivide and in turn establish multiple dwellings (assuming the local council is amenable.) One of the great things about this option is that you have the choice to live in one and rent out/sell the other.
Regarding sub-divisions, make sure you are confident that you can successfully subdivide as many councils are now restricting such projects. Each council has its own idiosyncrasies but in general, you'll need an adequately sized block (in Australia that's generally a minimum of 700 square metres) and the capacity in the block to provide driveway access and off street parking. You'll also need to understand issues such as easements, covenants and heritage overlays which will impact on what you can build.
Needless to say, we strongly suggest you view title documents and visit the council before making any serious decisions on a property. The choice as to whether you choose a standard house design (as offered by many building companies) or engage an architect to create a bespoke design that you then manage through to build is a personal one and most generally is subject to your budget and appetite for risk.
In general – the pros and cons of building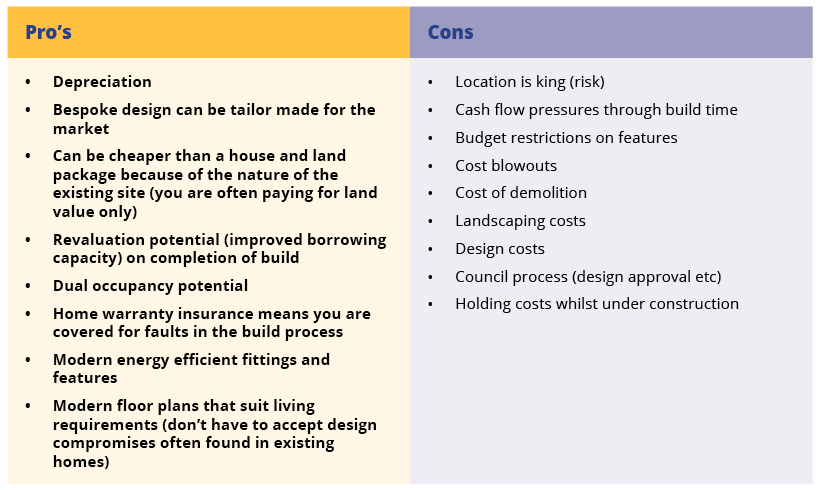 Buying an establish property for rental
Advantages to buying an established property
This option is clearly the simpler strategy and generally means that you can be attracting tenants within days of completing your purchase.
The advantages to buying (and quickly renting out) an established property are many…
You know what you're getting
The property is established, the layout (and services/features) are defined and you can work with local estate agents to attract tenants. These agents will also help confirm the "track record" for the suburb, the type of property as well as helping you identify a range of potential suitable renters
Convenience
There is no doubt that often-times, the quicker you can generate rental income the better – whilst you would like to make improvements to the property to attract more/better rental income, you might find that this income, when compared to the capital appreciation of the site means that as long as you are covering costs then you are happy to keep the property as is.
Less stress
Even the most experienced property investors find the build process can be incredibly stressful.
Features are often not priced in compared to a new house
When you buy a property you often find that they have features (landscaping/developed gardens/an old working spa!) that aren't "priced" in but can often improve the property from a renters perspective
Cost
As we all know, buy low, sell high – and often this is the case with old houses where you can take advantage of the market and possibly negotiate the sale based less on features and more on the sellers requirements for a sale (in effect, a better opportunity to "buy well")
Block size
Often times, established properties are built on larger blocks than modern dwellings which means capital appreciation may be stronger than newer sites
Value adds
For anyone with some flair and imagination, its often possible to add value with smart and simple renovations
And the disadvantages…
Cost of running the house may be higher (less attractive to renters
Quite often older houses are poorly wired, not airtight and the plumbing is substandard. The running costs for the property can often mean that renters will look elsewhere
Cost of upgrading/renovating
When, and if, you want or need to do some improvements then older properties often provide some serious challenges – access, and the aforementioned age of the services mean that such projects can easily become extremely expensive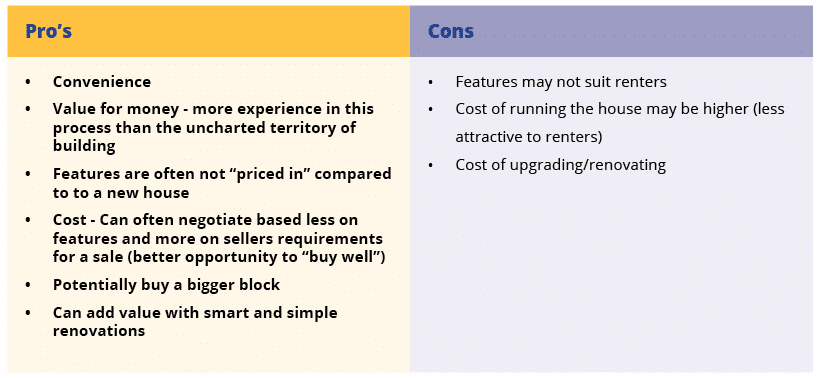 Conclusion
The choice as to whether you buy a property as is or build a new house is a complex one and is based on a range of issues – from your level of experience in managing builds, your knowledge of the local market and what attracts renters to your capacity for risk and requirements for managing the financial exposure of the investment.
Needless to say, the experienced team at Intuitive Finance are perfectly placed to help you understand the key factors and we urge you to take advantage of our wealth of experience and contacts to adjust, amend or commence your property investment strategy today!
The information provided in this article is general in nature and does not constitute personal financial advice. The information has been prepared without taking into account your personal objectives, financial situation or needs. Before acting on any information you should consider the appropriateness of the information with regard to your objectives, financial situation and needs.

Latest posts by Andrew Mirams
(see all)