Andrew Mirams responds to report questioning brokers' integrity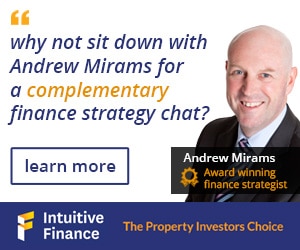 What's the issue at hand?
A recent media report which questioned the integrity of mortgage brokers is nothing short of headline grabbing.
The report was supposedly about ASIC's review of the mortgage broking industry but the claims made in the story were nothing at all like reality.
One of the major allegations was that mortgage brokers convince their clients to take on larger loans than they needed or only offered them interest-only products – that is just not true. I wonder where the evidence is to back up that claim?
What's the reality?
About 95 per cent of my clients ask me "how much can I borrow?". We then delve into what they're looking to do and what they're hoping to achieve. After that, we match the strategy to realistic goals.
The allegation that we only recommend interest-only loans is not correct. While there are certainly more interest-only loans in play in the broking profession, that's because banks usually have limited products and have strict policies on what they can and can't do. I say that with confidence because I used to be a high-performing bank manager.
We fight harder for consumer outcomes than banks do because we're looking for the best deal across a number of different lenders.
The allegation that our commissions are in some way dodgy or hidden from consumers is also hard to understand. We disclose all of our commissions to our clients right from the outset.
The story also alleges that brokers are financially incentivised to use particular lenders. Again, that is not the reality, because the difference between commissions from lenders is only a few hundred dollars.
What's the truth about the problem?
One of the issues with the broking industry, however, is the educational entry-level is far too low. So, perhaps, people who are struggling to do a deal may not have the necessary skills to always do the right thing by their clients.
That said, to say that the whole industry is dodgy is irresponsible and nothing short of scare-mongering.
The ASIC review did find some elements that could lead to poor behaviour but overall to suggest that the entire industry is rife with conflicts of interest is alarmist reporting at best.
To think that out of 15,000 or 17,000 brokers that there aren't some bad eggs – like any industry – would be naive, but to propose that brokers generally don't do the right thing by their clients is offensive.
The mortgage broking industry did have soft dollar commissions in the past, but incentives like that have all been scrapped.
All of my clients undergo a complete fact find to develop their investment plan. We then present the best loans for them to achieve their goals.
Commissions are not taken into consideration at all because we are motivated by the best outcomes for our clients.
We also always disclose all of our fees, costs, and commissions at the outset.
That's the reality of professional mortgage broking, which is nothing like the incorrect claims peddled in that story.
✕
Discuss your specific needs & formulate the right strategy for you. Get in touch to organise your complimentary 60min session today!
Disclaimer:
The information provided in this article is general in nature and does not constitute personal financial advice. The information has been prepared without taking into account your personal objectives, financial situation or needs. Before acting on any information you should consider the appropriateness of the information with regard to your objectives, financial situation and needs.

Andrew Mirams is the Managing Director of Intuitive Finance and is a highly qualified mortgage advisor who holds dual diplomas in Financial Planning (Financial Services) and Banking and Finance (Mortgage Broking). Andrew's expertise covers all aspects of lending for a diverse range of applications – from first home buyer loans or property upgrader loans, property investor loans, expatriates and loans for self-employed. With almost 30 years of experience, Andrew has been acknowledged by the mortgage industry as one of its best performers with multiple awards including regularly featuring in both the top 100 mortgage brokers list and Top 50 Elite business writers. Andrew was voted Victoria's favourite Mortgage Broker at the 2015 Investors Choice Awards, and won again for the same category at the 2017 Better Business Awards. The team at Intuitive Finance has also figured prominently by winning the 2016 "Best Independent Office (<5 brokers)" and "Best customer Service" Awards, and more recently at the 2017 MFAA National Awards, they also took out the "Best Customer Service" Award, a recognition which speaks for itself! Visit Intuitive Finance for more information.

Latest posts by Andrew Mirams (see all)