Investor lending has changed quite dramatically over the past 18 months.Why has the lending environment changed so much for Sydney investors since then?
The reason why that has taken place was that the government regulator, APRA, was worried about the strong property price growth occurring in Sydney as well as the unusually high numbers of investors in the market.
That meant that restrictions were placed on lenders to reduce the numbers of investors as well as the total number of interest-only loans in the marketplace. They have long had a concern about the rising house prices but more importantly the debt to income ratio as this graph would illustrate:-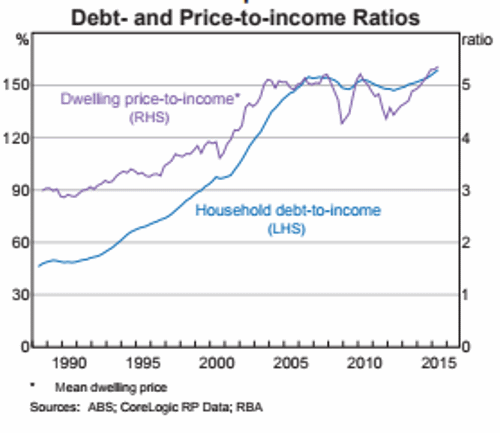 And it was investors that were driving this price to a level unprecedented in history. Investors were running at around 65-70% of all property purchased in Sydney. This raised the attention of our regulators. Firstly there was a year-on-year cap placed on the leading banks saying they could only grow their investor books by 10%. However, in all of this, no-one has addressed the supply and demand issue as illustrated here: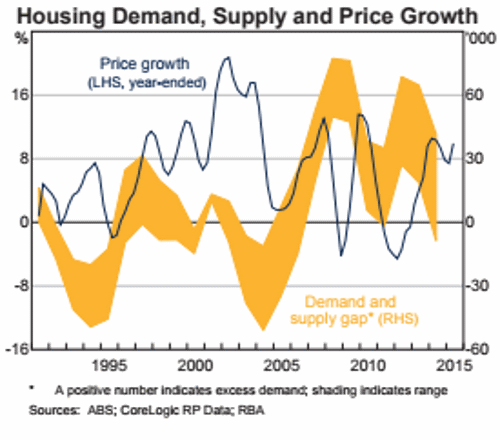 Likewise with interest-only loans, which were sitting around 41 per cent of the market in terms of new loan applications which was a very a high percentage by international standards (world standards are around 30% of all new applications). This gave the regulators more ammunition to curb investor lending by enforcing a 30% cap on the banks, this has now had an impact on lending in total as well as for the Sydney market.
Inflation has long been the key but as this graph shows, arguably our housing market (Sydney & Melbourne predominantly) has run well ahead of inflation causing some concerns.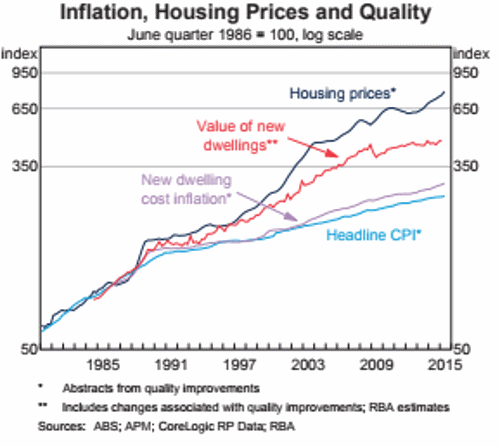 Investor lending has become more difficult for some borrowers, that is a fact but deals are still available for well-prepared home loan applicants with good equity and strong incomes.
How have the Sydney housing markets reacted to these changes so far?
It's fair to say that the changes to investor lending appears to have had the desired impact with prices in Sydney cooling.
However, it is hard to determine whether the Sydney market was starting to cool down of its own accord after a number of years of strong price growth between 2012 and 2016.
Sydney faces both a supply & demand issue as well as the conundrum of debt to income ratios now rising again.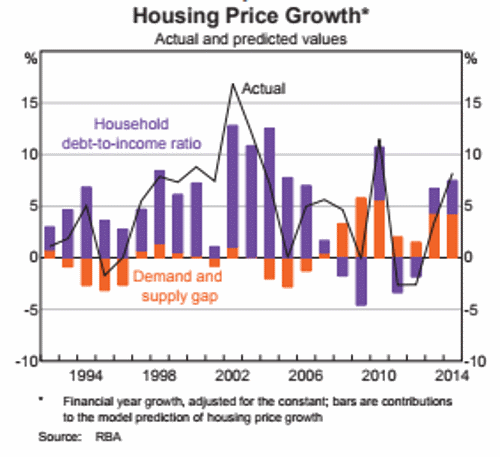 The housing market in Sydney remains robust given the Harbour City is our most populous as well as being the engine room of Australia's economy.
When it comes down to it, people still have to buy and sell property because of their personal circumstances such as upgrading to a bigger house when children are born – regardless of the lending environment.
What has changed is that lenders are being much more particular about investor lending, with applicants having to put their best financial foot forward, which means being prepared as well as seeking professional advice.
It's important to remember, though, that the lending environment is fluid with credit restrictions a part of a normal market cycle.
What we may see in the months ahead, if Sydney's market continues to record little price growth, is that investor lending will be back and lenders will open their wallets more easily once more.
VIDEO: I discuss these changes with property expert Michael Yardney
This video originally appeared on Property Update.
Where can I get advice to secure a property investment loan in this climate?
The investor lending climate can seem like a property bridge too far at present.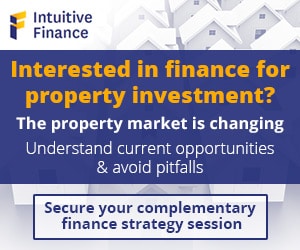 Sure lenders have adopted lending restrictions, but that doesn't mean that solid loan applicants aren't being approved – and especially those applications that have been prepared with the help of professional mortgage brokers.
The world of banking and finance can be a pretty daunting one for both novice and sophisticated investors and since our establishment in 2002 we've focused on providing outstanding service and business standards.
So, if you'd like to learn how to successfully apply for a property investment loan in Sydney today, why not contact Intuitive Finance today to ensure you have the right information and expert support on your side from the very beginning?
If you'd like an expert to provide you with a better understanding of property investment in Sydney or if you have any other questions, please just contact us directly and we'll be in touch.

The information provided in this article is general in nature and does not constitute personal financial advice. The information has been prepared without taking into account your personal objectives, financial situation or needs. Before acting on any information you should consider the appropriateness of the information with regard to your objectives, financial situation and needs.

Latest posts by Andrew Mirams
(see all)