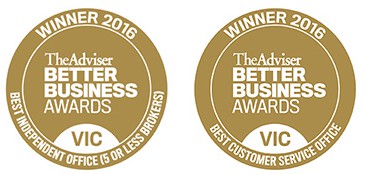 Following on from Intuitive Finance winning Victoria's Favourite Mortgage Broker at the 2015 Investors Choice Awards comes the news that the Bayside business has won both the Best Independent Broker and the Best Customer Service award at The Adviser's 2016 Better Business Awards.
The Better Business Awards focus on state-based businesses – rewarding those mortgage brokers that have the most effective businesses, talented teams, marketing strategies and integrated offerings.
According to Founder and Managing Director of Intuitive Finance, Andrew Mirams:
This is another great feather in the cap for the team at Intuitive Finance. Since our establishment in 2002 we have been completely focused on providing the best financial advice and customer service possible.  We have always focused on the quality of business we write, the standards we maintain and the quality of people we work with. We are very diligent regarding our service standards for both new and existing clients and I couldn't be prouder of the team.
For those who still don't know about Intuitive Finance
Led by Andrew Mirams, Intuitive Finance has consistently been recognised by the main industry and mortgage finance media bodies for its' outstanding service and business standards. With over 25 years of commercial and personal banking experience, Intuitive Finance has arranged close to a billion dollars in loans and has access to over 500 financial products from more than 30 lenders.
No matter at what stage investors are in their investment cycle, be it nearing retirement or as a young couple starting a family, it's never too late to build an investment strategy and create wealth and Intuitive provides advice across the key elements of any property investment — from property type, location, expected yields, day to day management and of course the loan framework built around the portfolio.
About The Adviser Magazine
The Adviser is the number one magazine for Australia's mortgage and finance brokers. The publication delivers news, analysis, business intelligence, sales and marketing strategies, research and key target market reports to an audience of professional mortgage and finance brokers.
Now in its sixth year of publishing, The Adviser reaches over 10,000 mortgage and finance professionals every month. It is the must-read publication for any professional working or considering a career in mortgages.
Backed by a respected and experienced publishing team, The Adviser is renowned for its insightful coverage of pressing mortgage industry issues, its market-leading industry reports, practical sales and marketing strategies as well as the credibility of its research.
Contact
For further information, please contact:
Andrew Mirams, Intuitive Finance
Level 1, 218 Bay Road,  Sandringham – VIC 3191
Phone: 1300 342 505
Mobile: 0477 100 130
Email:  andrew@intuitivefinance.com.au

Latest posts by Andrew Mirams
(see all)