Consumer Confidence Rebounds and That's Good for Property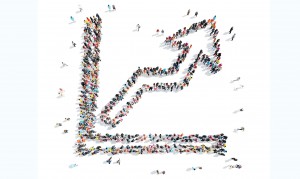 As a property commentator and investor, I keep a close eye on Consumer Confidence as it is one of the leading indicators of our property markets.
By a leading indicator I mean it shows what's ahead of us, as opposed to lagging indicators which show what has happened.
When consumer confidence rises, people are more comfortable making significant buying decisions, including moving home and buying investment properties
This week the ANZ-Roy Morgan Australian Consumer Confidence bounced a sharp 3.2% to 117.8

Here's what happened:
The bounce in consumer confidence last week was underpinned by a strong rise in the economic outlook sub-indices. Households' view on economic conditions over the next 12 months jumped a sharp 7.8% while views towards economic conditions over the next 5 years rose 5.2%.
Households' confidence towards their finances also rose. Consumers' views towards their finances compared to a year ago rose a solid 3.0% last week – more than offsetting the decline over the previous three weeks. Meanwhile, households' views towards their current finances edged 1.7% higher.
Household views on whether 'now is a good time to buy a household item' was largely unchanged – up just 0.4% last week.
The four week moving average of inflation expectations edged 0.2ppts lower to 3.9%.
ANZ Head of Australian Economics Felicity Emmett commented:
"Despite the ongoing uncertainty surrounding the US presidential election and the subdued performance of global equity markets last week, consumer confidence has jumped a solid 3.2% – more than offsetting the decline over the previous couple of weeks.
"Although we would caution against over-interpreting this pickup as weekly data have been particularly volatile of late, it appears that concerns over the global outlook have been largely offset by the ongoing solid performance of the domestic economy.
"That said, the decline in inflation expectations – which likely mirrors the weakness in the Q3 CPI report released two weeks ago – is somewhat concerning."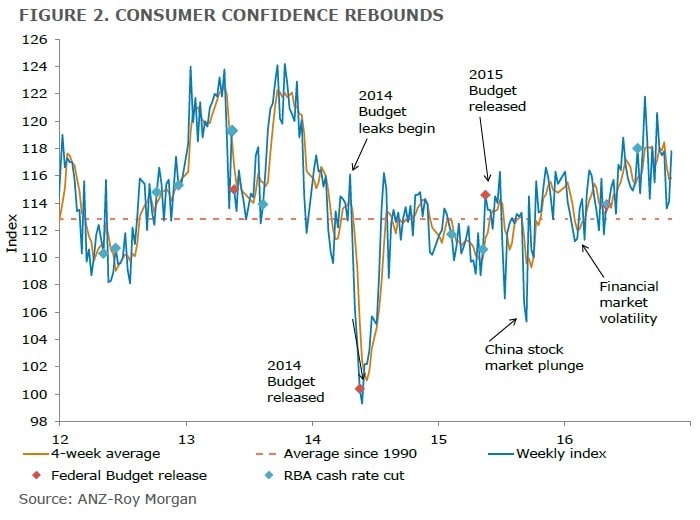 Michael is a director of Metropole Property Strategists who create wealth for their clients through independent, unbiased property advice and advocacy. He's been voted Australia's leading property investment adviser and his opinions are regularly featured in the media.

Latest posts by Michael Yardney (see all)