Australians are becoming a little less confident about their financial futures.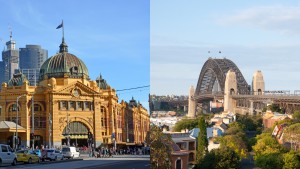 This has not been helped by all the talk about housing affordability (or lack thereof),  the media's negative talk about the Melbourne and Sydney property markets and all the terrorism and turmoil going on in the world.
Of course when people are confident they are likely to spend more, and when they're not – they are likely to keep their hands in their pockets.
Consumer confidence is a critical component in the mix of the many factors that drive our property markets.
This week ANZ-Roy Morgan's Australian Consumer Confidence eased slightly (-0.4%) to 112.4.
Broadly, though, confidence has recovered from the mid-May low.
That said, there continues to be significant volatility between sub-indices.
Households' expectations of current economic conditions edged up 0.6% last week, after a sharp 5.2% decline the previous week. Households' confidence in future economic conditions rose 2.8%, however, more than offsetting the 2.6% fall in the previous week.
Households' views around current financial conditions dropped a sharp 8.1%, unwinding most of the 9.4% jump in the previous week. Meanwhile, views towards future conditions edged up another 0.2% following a 1.5% rise in the week before last. This sub-index is at its highest point in seven weeks.
The 'time to buy a major household item' sub-index rose 2.0% last week. This sub-index has risen quite sharply since early May and is close to its peak at the start of the year.
Inflation expectations remain unchanged, at 4.2% on a four-week moving average basis.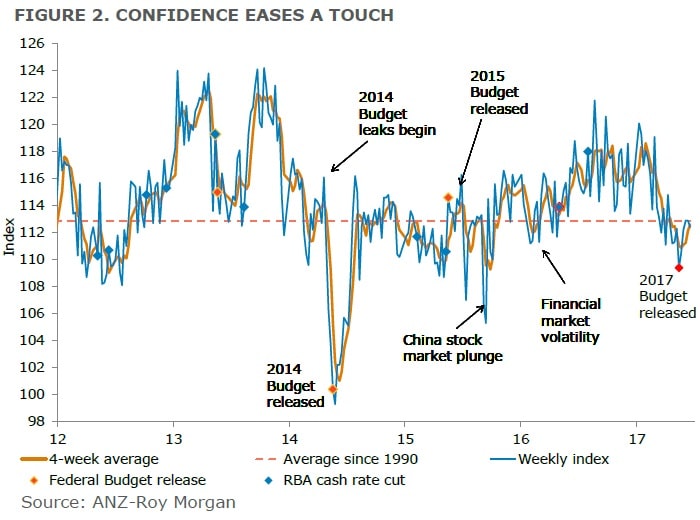 ANZ's Senior Economist, Jo Masters, commented:

"Despite this week's fall, ANZ-Roy Morgan Australian Consumer Confidence has been trending up in recent weeks. The 4-week average is at its highest point in nine weeks and is within striking distance of the long term average. 

"Consumers seemingly agree with the RBA's assessment that the weakness in GDP is temporary and have chosen to focus on the recent string of solid employment reports, including last week's data, which showed a sharp drop in the unemployment rate to 5.5% in May, the lowest since March 2013.

"We believe that there is still some scope for further employment gains (as official data catch up to forward indicators), and this will likely support confidence in the near term. That being said, once this catch up is complete job growth is likely to slow to a much more moderate pace. Meanwhile, the volatility in the sub-indices is a timely reminder of the headwinds facing households, with the sharp fall in current finances last week likely reflecting news of large energy price rises from 1 July."


Latest posts by Michael Yardney
(see all)